Menjangan Island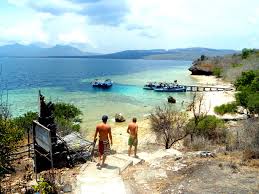 Menjangan Island is part of the Bali Barat National Park. It takes its name from deer living on the island.
Menjangan is one of the absolute highlights for divers and snorkelers in Bali. An incredible variety of corals, bigger and smaller fish awaits all visitors.
Gorgonias, sponges, soft corals and many other things are more likely to be found in vertical walls that drop down to 70m.
With a little bit of luck you can find eagle rays, whitetip reef sharks and turtles.
In principle, Menjangan is not a real big fish area.
The absolute highlight of Mejangan is the dive site Eel Garden.
After a hover along the incredibly overgrown steep wall, you come to a white sand hill, which is populated over and over with garden eels. Unfortunately, time passes too fast at the eels, so that we have to move on till we arrive at a huge coral garden, in which often a flock of Barakudas or buffalo head parrot fish linger.